My adaptor kit to convert any harness type to Scandinavian.
I favour a full neck collar and not a Scandinavian collar, buying mine from Aaron Martin.
The adaptor kit replaces the pulling strap, pulling ring and shaft pin on the diagramme opposite, turning any harness and collar combination into one suited for the excellent Scandinavian shafts.
Some harnesses will require a strap or chain to connect the breeching to the pulling ring.
Chain tugs allow for adjustment to length. This is essential for effective use.
Ideal adjustment will have the pulling ring forward of the girth line when at rest so that it comes level with the girth line when in draught. If the pulling ring and shaft pin are further back in traction they risk hitting the horse's ribs and either 'kicking it on', unsettling it or causing a sore.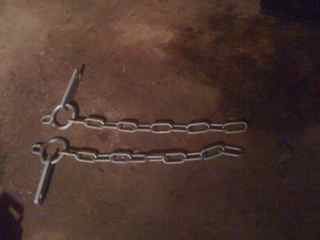 As used on a Canadian Harness (tugs need to be shortened as they are further back than the hollow behind the front leg the girth is fitted around and may be in contact with the ribs)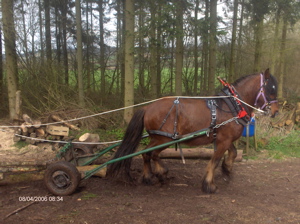 'Scissors' type adaptor for all harness already fitted with a 'pulling ring' such as most French and German harness and (pictured below) New England 'D' ring harness.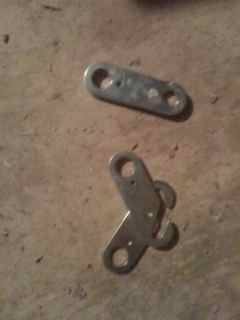 The tugs need to be adjustable and the adaptor is not suitable for the standard harness with fixed tugs as the shaft pin can hit the ribs when in draught.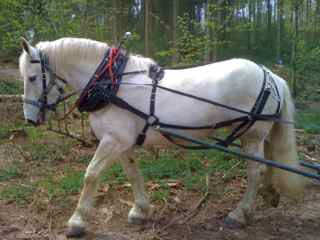 A pad behind the pulling ring is not required if the tug length is adjusted correctly. In draught, the pulling ring and shaft pin should sit in the hollow between the horse's front leg and rib cage, in line with the girth. It will not be in contact with the horse.