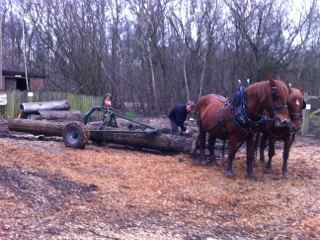 The latest Pole Arch with improved winch here seen extracting large oak logs with Matt Waller and a pair of Suffolks.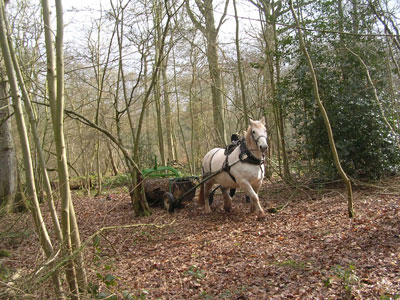 Ella at speed extracting a 1.5 cubic metre oak log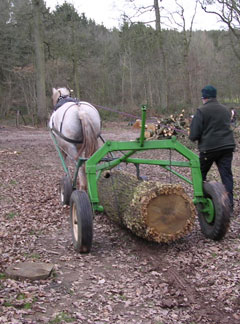 British made horse logging equipment - Pole Arch. £2,300.00
For full ordering and payment details <<click here>>.
The pole arch enables very large single butts to be lifted and and then pulled by a single horse using an arch or a team in long gears.
Now manufactured with 3 tonne lifting winch and supplied with a large grapple.
The pole arch has a wind on brake on the wheels to allow control on banks. It also has a winch and large grapple to lift the butts and has been strengthened.
The winch and grappple are used to raise the log (which must be front heavy for safety) and the log is lowered onto and held in place by a chain slung from 2 quick release hooks.
On no account should the winch and grapple be used when moving the log without the chain in place.
The winch and grapple are then used to lift the log so that the chain can be removed and again in lowering the log to the ground in a controlled fashion.