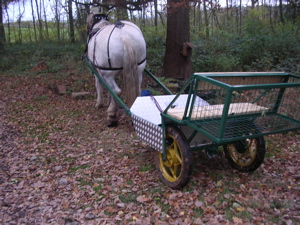 Extrahitch cart showing the removable 'boot' and the ball and pin hitch. Will tow anything you can put behind a car, quad, Land Rover or simple tractor, subject to available horse power.
This is a simple hitchcart and has no donkey engine/PTO/hydraulic option.
Price is £2,750 with shafts. Pole an additional £495
For full ordering and payment details <<click here>>.
The 'Extrahitch' Cart.
An exercise cart
A training cart
A hitch cart
ALL IN ONE!
This cart is designed with shafts for a single horse or with optional poles for a pair.
Shafts are dynamic as the horse pulls directly on them, identical to the forwarder shafts and are made to fit Scandinavian Harness.
With three seats for the heavy horse version and two for the cob/pony version, it comes complete with a full floor well, wheel arches and a detachable 'boot' for carrying tools, feed and equipment.
Wheels are fitted with brakes operated by a simple foot pedal connected by solid bar levers and the brakes are fully adjustable.