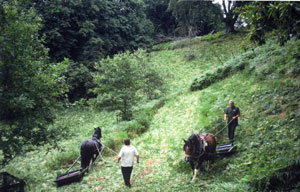 Doug with Dot and and Mark with Sally in Moccas Deer Park bashing the regeneration plot. I think he missed a bit.
Mechanical bracken control with the Heavy Horses Bracken Basher is a cost effective and efficient way to manage and control bracken.
Carried out from late June through to early August, when the bracken is strong and still growing, the Bracken Basher flattens the bracken and crushes it with its specially designed roller. The plant goes into shock and sap is forced up from the rhizome (root) to help the plant to recover from the attack. The sap 'bleeds' from these bruises, is unable to feed and restore the plant, and exhausts the food store in the rhizome. When the plant starts to die back, the bruises also prevent any feeding of the rhizome to help it over winter. The bracken starts the following season very much weakened and stunted. A further treatment or treatments can eradicate the bracken.
Bracken Bashing is not weather dependant, and does not contaminate ground water. The effect is progressive, needing repeat treatments. Once the bracken is controlled, however, mechanical Bracken Bashing has a long lasting effect.
Spraying with Asulox is now banned in Britain so there are no specific sprays available any more; mechanical bracken control is now the only realistic option available.
The beneficial effect of Bracken Bashing is more than the long term bracken control. It has an immediate effect of flattening the bracken and crushing the old, spent litter. This encourages it to rot down, reduces the fire risk and allows for suppressed plants to grow through the flattened bracken into the light. Grasses, flowers and tree regeneration all benefit from this reduction in shading. Brambles are also controlled by the Bracken Basher.