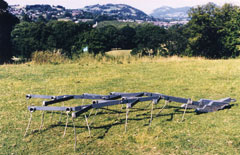 For full ordering and payment details <<click here>>.
The name "Heathland Rehabilitation Heavy Horse Harrow" is copyright


British made horse logging equipment - HRH Horse Harrow
The Heathland Rehabilitation Heavy Horse Harrow was designed in collaboration with English Nature for work on the Stiperstones NNR as part of the 'Back to Purple' project, restoring a former softwood plantation to heather heathland, breaking down the pine litter and encouraging natural regeneration of heather and other dormant and wind blown seed.
Although developed for heathland, it has been widely and successfully used for encouraging natural regeneration in woodlands by creating a good seed bed, especially after the removal of conifers.
It is a 'go anywhere' harrow that will cope with rocks, stumps and brash piles whilst still scarifying effectively.
Available in all spring steel (for heathland work) £1,155 or mild steel (for woodland work) £1,045