NEW optional winch is now available for the timber arch, both the standard arch and the arch on the 6 wheel Combi Forwarder.
The winch has been added by request.
I still do not use a winch preferring to raise the timber using other techniques.
Many do seem to want a winch so I now have a 1.5 tonne lifting winch as an optional.
Requiring five points of attachment in the full size arch, it has a ratchet on the lift and a braked descent.
The winch is also detachable so need only be carried when it is required.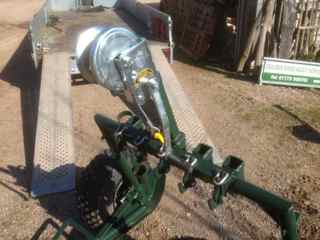 The winch with the hook secured in its 'parked' position
5 points of attachment to ensure a straight lift
The winch lifting the log by the choker chain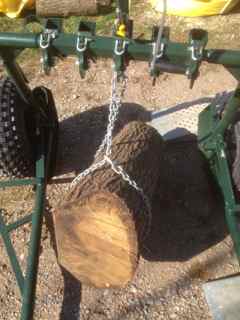 The log secured and suspended by the choker chain, the winch is back in its 'parked' position
The winch is used to lift the load to the required height.
A choker chain is used to raise the log, attached to the chain hook on the cable winch cable.
The choker chain is then used to carry the load NOT the winch.
To lower the log either trip the quick release hook or raise the log slightly with the winch and release the choker chain from the quick release hook, then use the automatic braking on the winch to lower the log to the ground.