Heavy Horses
Working horses
CONTRACTING (updated August 2009 - in desperate need of another!!)
The bulk of my professional work is in Childer Wood and Meephill Coppice where I have been increasingly basing my activities over the past few years.
This has led to the the Creation of CHILDER WOOD HEAVY HORSES. This is not a public centre open as a tourist attraction. It is a serious working woodland where I am demonstrating that horses can be used economically and efficiently in contemporary forestry and that the management of small woodlands can be economically viable. Horses are used for all the timber extraction and for moving tools and equipment as well as control of brambles and bracken. In short, for everything. The work in Childer Wood was recognised by a Bronze Award in the British Horse Loggers Woodland Management Award in 2007. Judged by Geraint Richards, Head Forester of the Duchy of Cornwall Woodlands and Graham Taylor of Prior and Ricketts Silviculture, the Award was made against a very strong entry and is very pleasing.
Using a team of horses and a comprehensive range of horse logging equipment, coupled with on site processing, CHILDER WOOD HEAVY HORSE CENTRE is an entirely commercial venture with income generated by the sale of timber and timber products.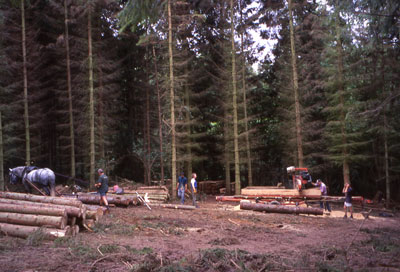 Extracting saw logs to a Woodmizer mobile saw mill
I do still contract out my services and my work this year involves quite a few interesting projects.
Over the past few years I have had the privilege of workling for various wildlife and woodland trusts, the Forestry Commission and many owners of private woodlands, both small and large. I have demonstrated horse logging and horse work at shows and at working demonstrations and I have developed a range of horse logging and woodland management equipment.
Bracken Bashing has really taken off and the period end of June to early August is full steam ahead! Four teams were working for some of the season and the amount of workk is really starting to build up and we are already considering work for next year!. I have cleared bracken and brambles from areas of Childer Wood and have scarified with the HRH Horse Harrow to create a better seed bed,. This has resulted in very strong oak regeneration and a much more varied and rich woodland flora.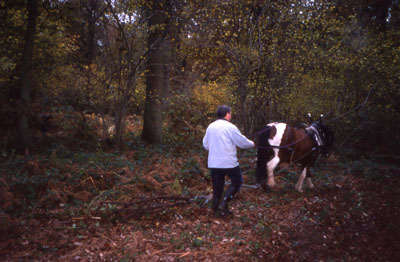 Scarifying for natural regeneration on a training course
We have returned from a large team contract in a beautiful hard wood called Roberts Wood. Owned by Felix Dennis, who is creating huge new areas of native hard woods to extend and join existing woodlands to recreate the Forest of Arden. Stunning in scale, ambition and also in execution. This contract was also indicative of the trends in horse logging. 10 years ago I would have kept this wonderful contract to myself and made it last as long as possible but I am now far too busy so we called in a team of cutters, a few helpers and a team of horses - five on site and four working at any one time. In this way we were able to complete the job in a week and enjoy each others' company.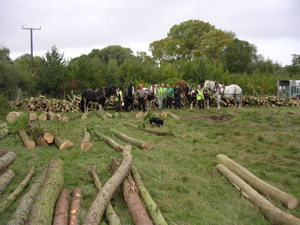 The team on site
The team was Peter Harmer, Mark Smith and David Roycroft felling; Miranda Hancock and Karen Kilshaw crosscutting, stacking and general horse work; Mark and Kirsten Turnbull and myself with horses. Horses were Ella, Dot, Thistle, Painter and Sally. Two horse drawn forwarders were used to bring out the 2 metre poles to the stack with the other horses skidding to track side and taking the larger poles to the stack.
Not strictly a contract but a bit of news. Nicky More, an acknowledged equine artist, was commissioned to paint a tryptich for the BHS centenary celebrations. Ella was chosen to represent horse logging on the Working Horses panel.This photo was taken after I had signed one of the (obviously) signed copies and shows Ella, myself and Nicky holding a signed copy. I have one of the unsigned copies on my office wall and very fine it is too.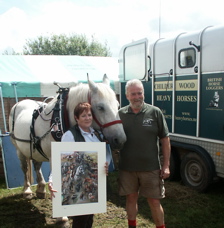 Ella, Nicky and Doug with the painting at the Three Counties Show.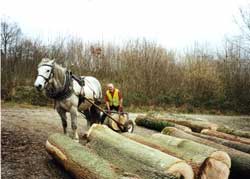 Oak and ash saw logs in the arch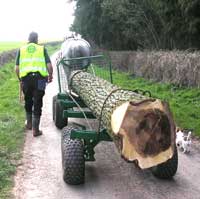 Poplar saw log on the forwarder
I have been working with Eco Dysgu, an environmentally based educational 'more than profit' community business. Peter went down to help select the trees and fell them. I then went down with Jacob, Ella and Dot to extract the timber (large logs down a steep and narrow dingle - terrific) and then returned with the Woodmizer LT40 to mill the saw logs. The timber will be used to make beds and other essential items in the renovation of an old pit horse hospital to turn it into a residential education centre. I will be back down to run two gate making workshops to turn some of the timber milled into farm gates for the fields at Eco Dysgu. This innovatory project is being run by two exceptional women who were once told by one old misogynist that they could not organise a trip to the toilet! Instead, they have created a vision, encouraged partnerships and raised money, realising their aims and impacting on the lives of hundreds of children, offenders and drug users.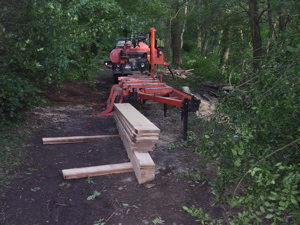 Woodmizer on site with sycamore planks.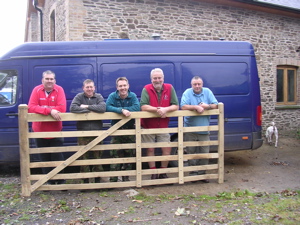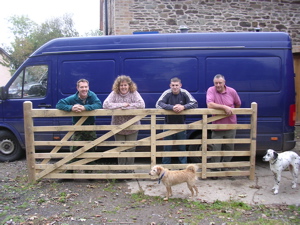 10' Marches field gate and 12' "Sunburst" Marches Field gate made at Eco Dysgu/Eco Learn in October 2007 from the oak in the woods.
Then we learnt that the current owner's grandfather made gates of which there are some still in use. We liked the gate and have now made the first Tondu Gate in some years. This is another fine example of a quality hand made gate built to a local design.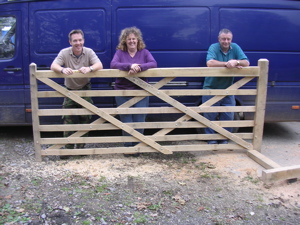 10' "Tondu" field gate
Eco Dysgu has since won an award from HRH The Prince of Wales for its integrated approach to health. Congratulations to Julie and the team.
To enquire or order these gates or to commission one to your own design (a copy of a farm original?) <<click here>>
End June to August will see me and quite a few others this year sweating and swatting flies behind the bracken basher. And a few shows....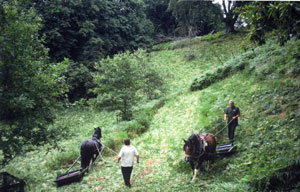 Mark and I in Moccas Deer Park in 2004 The team was back there again in 2009
Oaks and Shires, the annual project in Solihull, will be going ahead this year in November during National Tree Week (woodland management and schools groups) and 2 November, Public Day.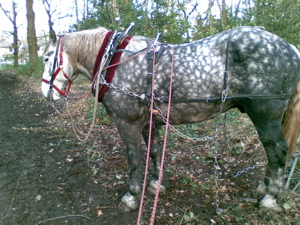 Jacob at Oaks and Shires in 2006
Later on in 2007 and 8 we were felling and extracting large oaks for the Duchy of Cornwall in Herefordshire. The work was important in itself but also fed into a study that HRH The Prince of Wales has requested into the benefits and costs of horse extraction as against mechanical extraction. This was a team contract again and we bracken bashed the area under the oaks (controlling the bracken and the brambles) so that when the oaks were felled the extraordinary amount of oak regeneration will be released to grow on for the future.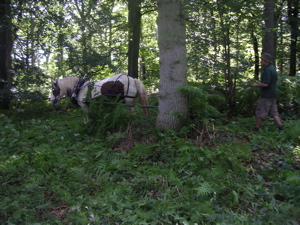 Thistle and Crunchie bracken bashing in Aconbury for the Duchy
The work started and a good team was put together to fell, cross cut and extract some very large oaks. At its peak the team was 9 horses and 17 people.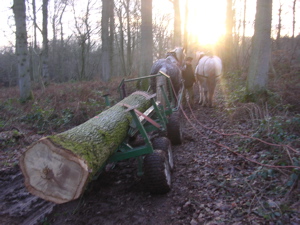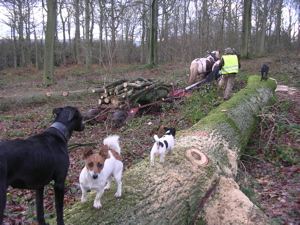 Jacob with large oak saw log in the forwarder and Dot and Thistle extracting the tops in the Bergans beast (with canine support)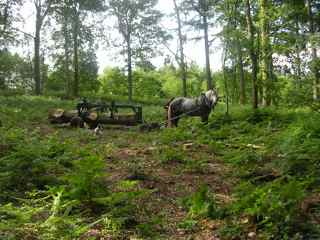 We even had to make a new piece of kit to cope with the extraordinarily large oak logs. Richard Cook developed this heavy duty pole arch specifically for this job. We used it to great effect (despite some early design tweaks needed) and I have since used it on large oaks in Childer Wood. This partly led to the new Combi forwarder I developed as it was partly as a response to the need for tougher towing shafts.
Hallwood in Dymock was a very good example of traditional, sustainable forestry. The trees were identified (job being to widen old rides and create new) and felled. Horse extraction was to various places for seasonong and processing timber. We extracted sufficient for a day of saw milling into the small standing on hirse from a neighbour.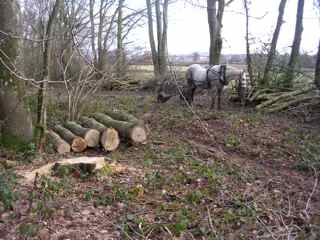 We then returned to mill according to the cutting list with our LT40 Woodmizer.
I then returned again to teach the estate staff how to assemble an oak filed gate to my design.
A proper bit of old fashioned estate woodland management!
Work continued and we had a fascinating piece of work on an importamnt archeological site, New Weir Forge in the Forest of Dean
The job was to remove encroaching trees from the site in preparation for ultr sound scanning and axcavation. New Weir Forge is a late mediaeval charcoal fired and water powered iron mill right by the River Wye. Ground skidding would be too risky so we had to use the small 8 wheel forwarder and a single heavy - no room for the cobs on the pole! The problem was that we were extracting quite steeply uphill and having to turn at a very sharp angle at the top.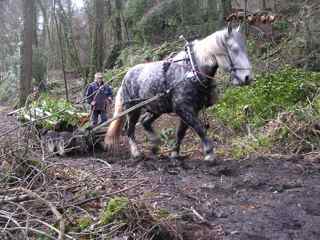 Jacob and Josef Svoboda bringing a load up.
That job was the final impetus to get me to design my new 6 wheel forwarder. It would have been perfect!
Many more and interesting jobs have taken place. The team thrives and we have an apprentice. Work continues withour respite and life is good! More to follow.